Micaceous Iron Oxides (MIO)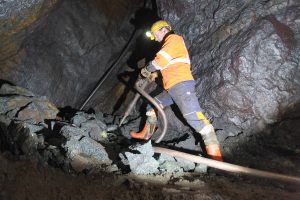 Micaceous Iron Oxides (MIO) are rather scarce, and significant natural resources are known to be available in Europe (Austria), Asia (China), Australia and Africa. There are differences in mineralogy and iron content. The most important quality criteria of MIO products according to EN ISO 10601 are:
Content of lamellar particles (minimum 65 % for Grade A,
EN ISO 10601)
Fe2O3 content (min. 85 %)
Color of product (grey with metallic sheen)
Particle size distribution (PSD)
KMI has a strong focus on Grade A products. Our MIOX® Standard grades AS, SG, DB are designed to meet these requirements.
Karntner Montanindustrie GmbH (KMI)
Since 2004 Cephas have been representatives of Karntner Montanindustrie GmbH (KMI), in the United Kingdom and Ireland.
Within our Product range we include KMI Micaceous Iron Oxide with various qualities and packing types being available from our UK Stock held at Viking Shipping Services Ltd based in Selby, North Yorkshire.
For more information please contact us or alternatively visit KMI Website


When viewed under an optical microscope by transmitted light, magnification x200, the thin flake micaceous iron oxide particles appear as sharply defined red translucent platelets. When viewed under an election microscope the pigment is seen as predominantly lamellar.
Product Samples
Technical Data Sheets
Product Presentations and Literature
ISO and REACH Certification
All the above are available on request